A Special One-Of-A-Kind Gift for any Occasion

---

BuxtonBear's purveyor of finely crafted Teddy Bears, & birds, elephants, owls, mice, and anything your creative imagination can conjure up. These handmade creatures are a perfect one of a kind gift for that special occasion.

Perfect for any occasion, whether it is for a birthday, anniversary, graduation, wedding, christening, valentines day, mothers day, new born, or any other special moment.

Since 2004, I have been making the unique BuxtonBear teddy bear. These artist bears, are collectables and not meant as toys and are sold as such. They are however safe for children.Originally hand made in England by me in 2004, the craft of teddy bear making was transferred across the Atlantic Ocean that same year, and continued in Montreal, Quebec, now in 2015


This site is dedicated to my loving Grandmother, Nana....xoxoxoxoxox
I Love You With all My Heart


---

The BuxtonBear teddy bear, elephant, and LuvDove is handmade with diverse fabric patterns, ribbons, and accoutrements each and every time. The basic teddy bear design and pattern remain largely unchanged, but each personality grows out of the first fabrics chosen.

The collection is sure to delight you, or that special someone. These teddy bears will be treasured by all ages. All the teddy bears, birds, MOUSE & elephants in my shop are hand sewn by me, all materials are sourced locally, and recycled. All teddy bears, birds, & elephants are one of a kind, and all have a unique characteristic.




The LuvDove's are made with 100% Wool Felt, and stuffed with seeds, and decorated with sequins and beads to add a distinguished finish. They would make a great ornament for any occasion. LuvDove's are available in a range of colours, just

contact us

with your inquiry.

Our Elephants are made out of 100% cotton or silk. They are finished with beading, embroidery, ribbon, buttons, and any other accouterment you can think off!

The Buxton MOUSE is our latest creation and addition to the BuxtonBEARS collection. They are unique, and never duplicated.

I always save the ribbons of packages, or old buttons, & anything whimsical!

We accept

PAYPAL

,

E-mail Money Transfer

,

SQUARE

payments

---

---
---
© 2011- 2015
www.BuxtonBEARS.com
. All rights reserved. The content on this website is protected by the copyrights of
www.BuxtonBEARS.com
of B-Waters Consulting Ltd. and used by agreement. No part of any of the content of this website may be reproduced, distributed, modified, framed, cached, adapted or linked to, or made available in any form by any photographic, electronic, digital, mechanical, photostat, microfilm, xerography or other means, or incorporated into or used in any information storage and retrieval system, electronic or mechanical, without the prior written permission of
www.BuxtonBEARS.com
.
BuxtonBEARS is trade name of B-Waters Consulting ltd.
---
Terms & Conditions:
This website is operated by B-Waters Consulting ltd. The terms "we", "us", and "our" refer to BuxtonBEARS. The use of our website is subject to the following terms and conditions of use, as amended from time to time (the "Terms"). The Terms are to be read together by you with any terms, conditions or disclaimers provided in the pages of our website. Please review the Terms carefully. The Terms apply to all users of our website, including without limitation, users who are browsers, customers, merchants, vendors and/or contributors of content. If you access and use this website, you accept and agree to be bound by and comply with the Terms and our Privacy Policy. If you do not agree to the Terms or our Privacy Policy, you are not authorized to access our website, use any of our website's services or place an order on our website.
Please Refer to the Full Terms & Conditions By Clicking On This Link
Privacy Policy Click HERE
---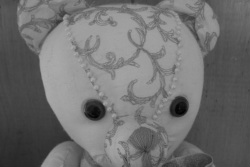 Refund Policy - BuxtonBEAR's Does Not offer Refunds on any of it's Items
, unless there was damaged caused during shipment. In the case of an item being damaged during shipment,
BuxtonBEAR's
requests the shipment be returned, for a full refund excluding shipping costs. Before you send back any damaged items, please
email
BuxtonBEAR's.
Full Refund Policy available
HERE
The exact dimensions in inches of every piece are in every item description. Please keep in mind every computer displays colors differently. Every care is taken to describe the item to show the piece as fully as I can. Given that these items are 100% hand sewn, there may be variations in stitching, which is the beauty of handmade. Also, each item at
BuxtonBEAR's
is unique and one-of-a kind.
---